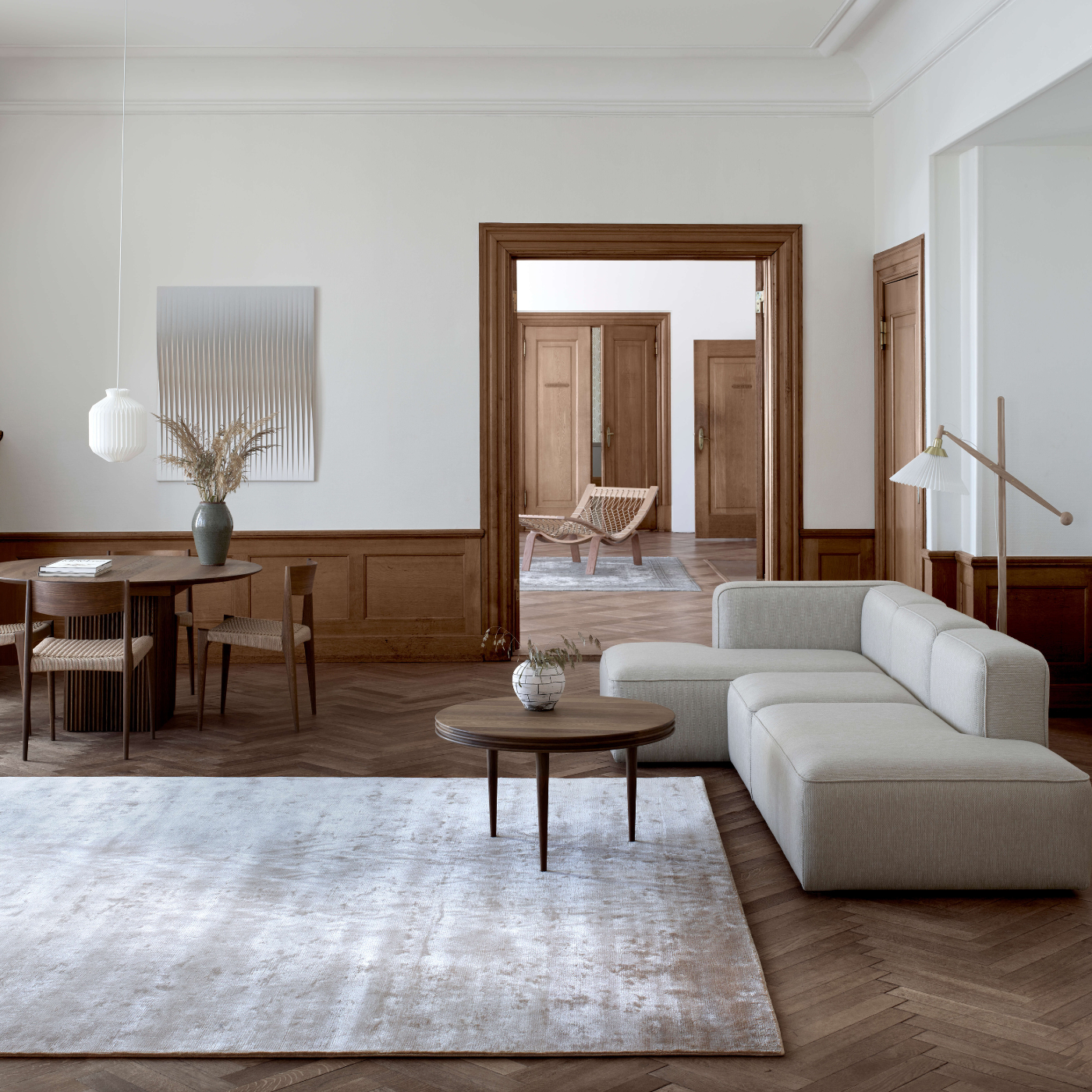 Rug Size Guide
A well-chosen rug can help transform a room, instantly creating a warm, cosy atmosphere. Choosing the wrong rug can close off your space and make it seem smaller.
We've compiled our best tips and tricks; the ultimate guide to choosing the perfect rug for your home. Read on for size and material recommendations, as well as the best placement options for every room.
Know where your furniture will be positioned before you start to measure and use masking tape to mark your measurements on the floor.
Measuring Your Room For Rugs
1.
Measure the space you want to be covered, giving yourself minimum and maximum dimensions to work with.
2.
Placing a sheet on the floor will give you an idea of what the area covered will look like.
3.
Oriental and Persian rugs tend to have slight variations in size, so we recommend you allow for such variations when you are measuring your room.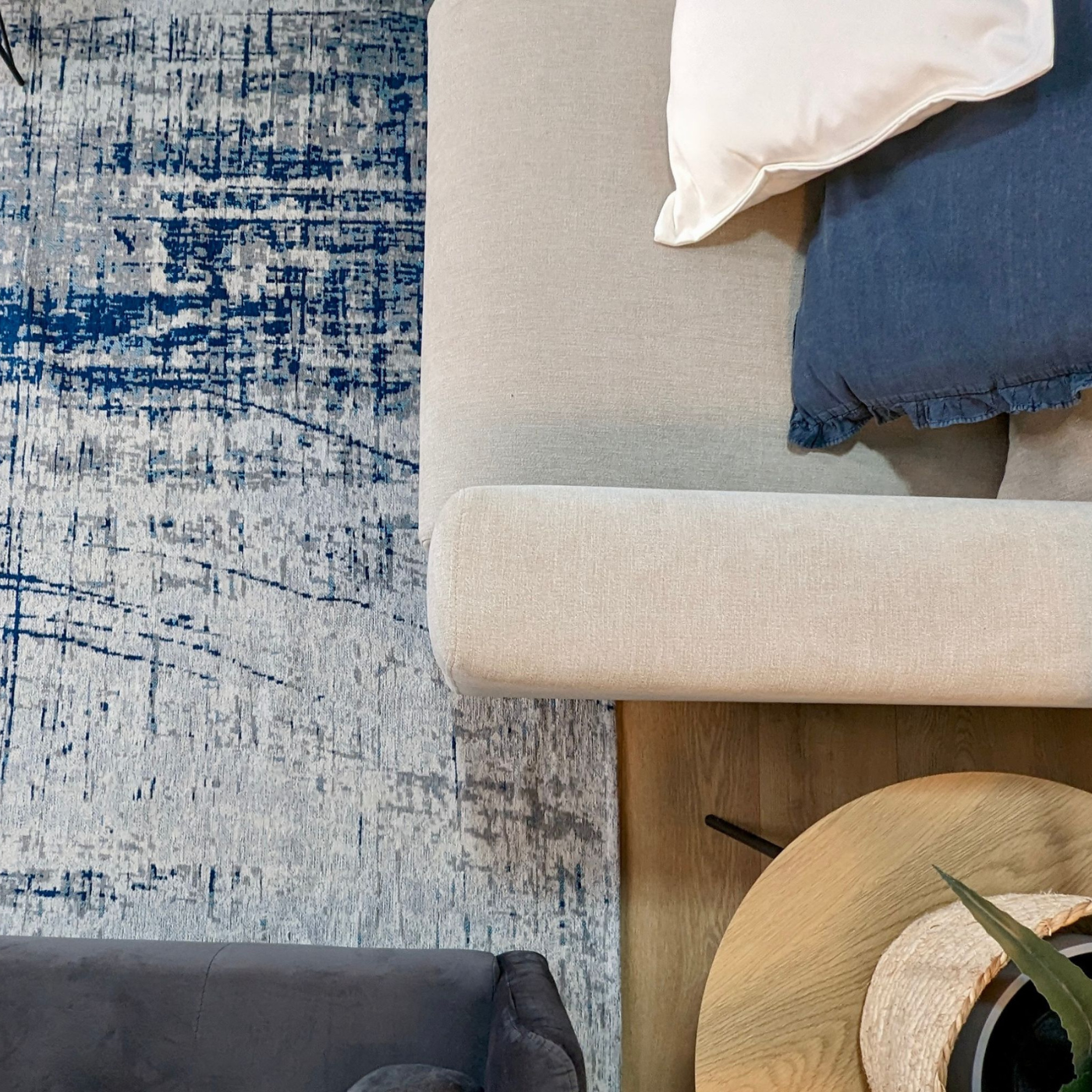 Living Room Rug Size & Placement
Given the variety of ways one can decorate their living room, there are multiple rug size and placement options that you can consider. Whether you opt for small or large rugs for living room spaces, our team are always on hand to help if you have any questions.
Fireside: the average hearth measures about 150cm in length, therefore we would recommend a rug 80 x 150 cm in size. Sizes can, of course, differ so we would recommend you measure your hearth if you are unsure.
A classic way to decorate your living room is by adding one of our large rugs. This style is perfect for seamlessly uniting your décor.
Do not worry about covering the entire floor, ensure that there is at least 2ft/60cm distance between the rug and your wall, otherwise, you will close off the room and make it appear smaller.
The size of your couch will also impact what rug would best complement your room. If you want to position it under your couch, we recommend you choose one of our extra large rugs. Whereas if you would prefer the rug to sit in the middle of the space, a 170 x 240 option may be better suited.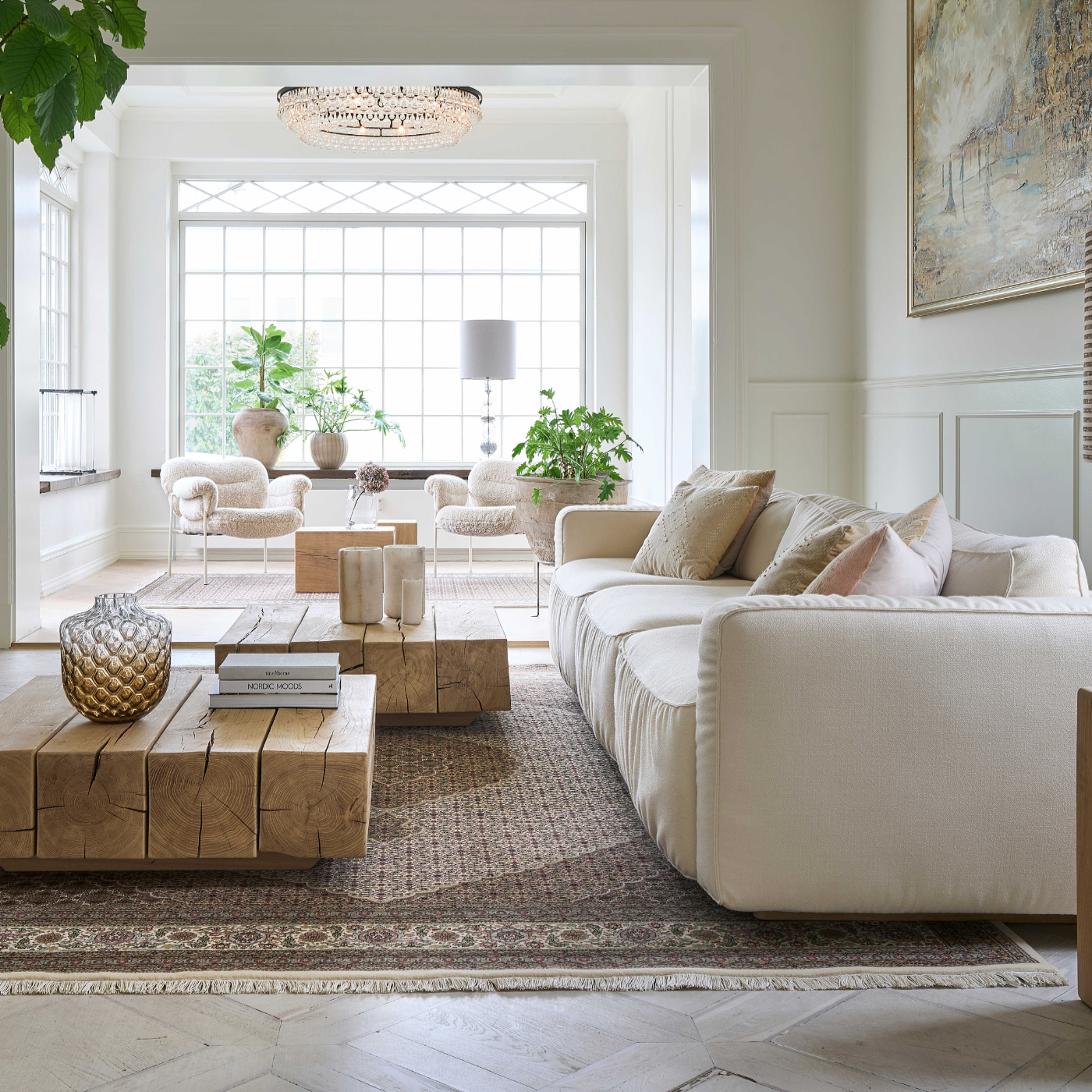 Living Room Material
For a living room, we recommend you prioritise warmth and comfort. Natural fibres such as wool will work especially well due to their soft, cosy texture and added durability. Wool rugs in particular quickly recover their shape after furniture compression and have excellent insulating properties, coming in a variety of styles that are sure to suit your décor. Other suitable materials include viscose and cotton if comfort is your priority, or polyester and polypropylene if you want strength and durability.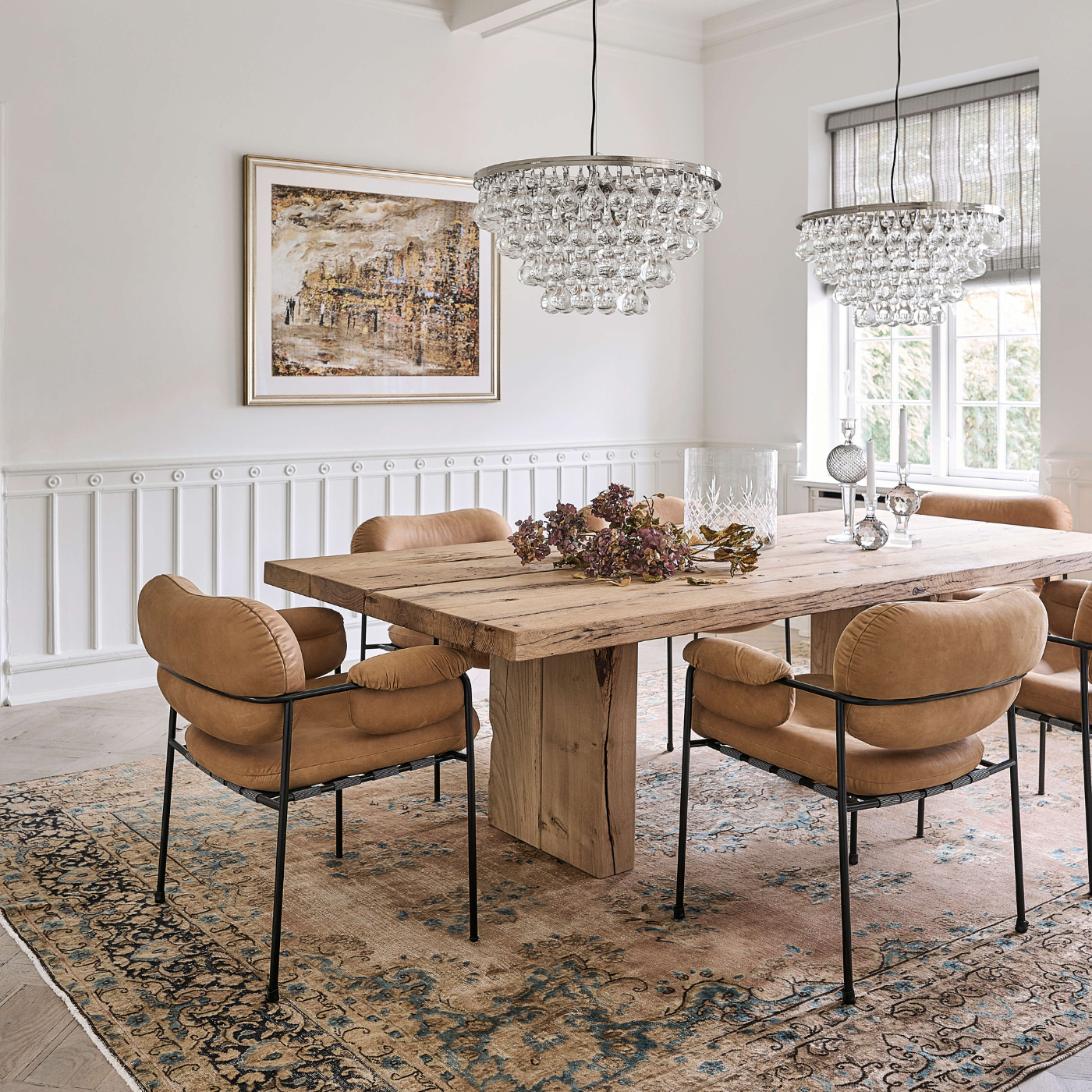 Dining Room Rug Size Guide
Tie your dining room together with a large area rug placed under your table and chairs. When choosing a size, remember that all chairs should be able to comfortably sit on the rug, even when they are pulled out. We recommend that the rug extend 2 feet/60cm out from the table. This will protect your floor from scratches caused by the chairs.
Rug sizes to Consider for the Dining Room
170 x 240cm, 200 x 300cm or circular rugs at least 200cm in diameter
Material
Fibres such as wool and jute (natural) and polypropylene (synthetic) are durable and highly stain resistant, making them well-suited to withstand constantly shifting furniture and heavy traffic. Avoid fibres such as viscose and Tencel which will wear quickly. Outdoor rugs are also a good choice for busy family dining areas, due to their water resistance and ease of cleaning.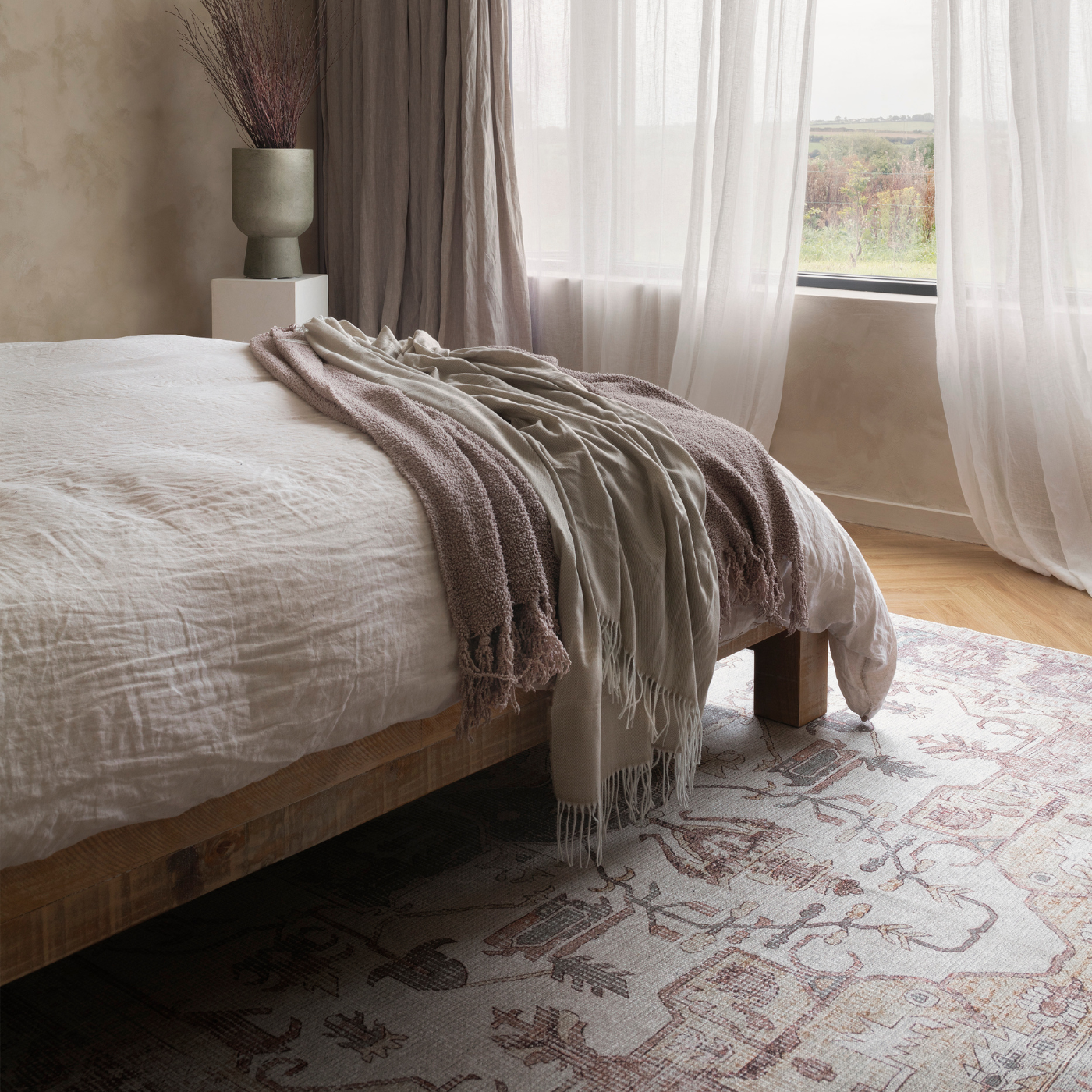 Bedroom Rug Size Guide
Nothing creates a cosy atmosphere faster than a well-placed rug. Depending on the size of your room, there are a few placement and size options you can choose.
If you have a large master bedroom, your chosen rug should be big enough to hold the entire bed, providing about 2ft/60cm to 3ft/91cm of space on either side so you can comfortably step on to the rug when you get out of bed.
For bedrooms, bigger is always better.
Queen Size Bed - 170 x 240cm minimum.
King-Size Bed - 200 x 300cm minimum. 230 x 330 cm is a popular choice. We offer an extensive range of large rugs for bedrooms.
For smaller bedrooms, place your rug about halfway down the bed, in order to carve out space and make the room appear larger than it actually is.
Another placement option is two identical rugs or runners on either side of the bed, running at least ⅔ of the bed length.
For single bedrooms, a rug or runner measuring ⅔ of the bed length will gently complement the furniture and create a cosy atmosphere.
Material
In the bedroom, comfort is of prime importance. We recommend choosing natural fibres such as wool, Tencel, silk and cotton, or synthetic fibres like viscose.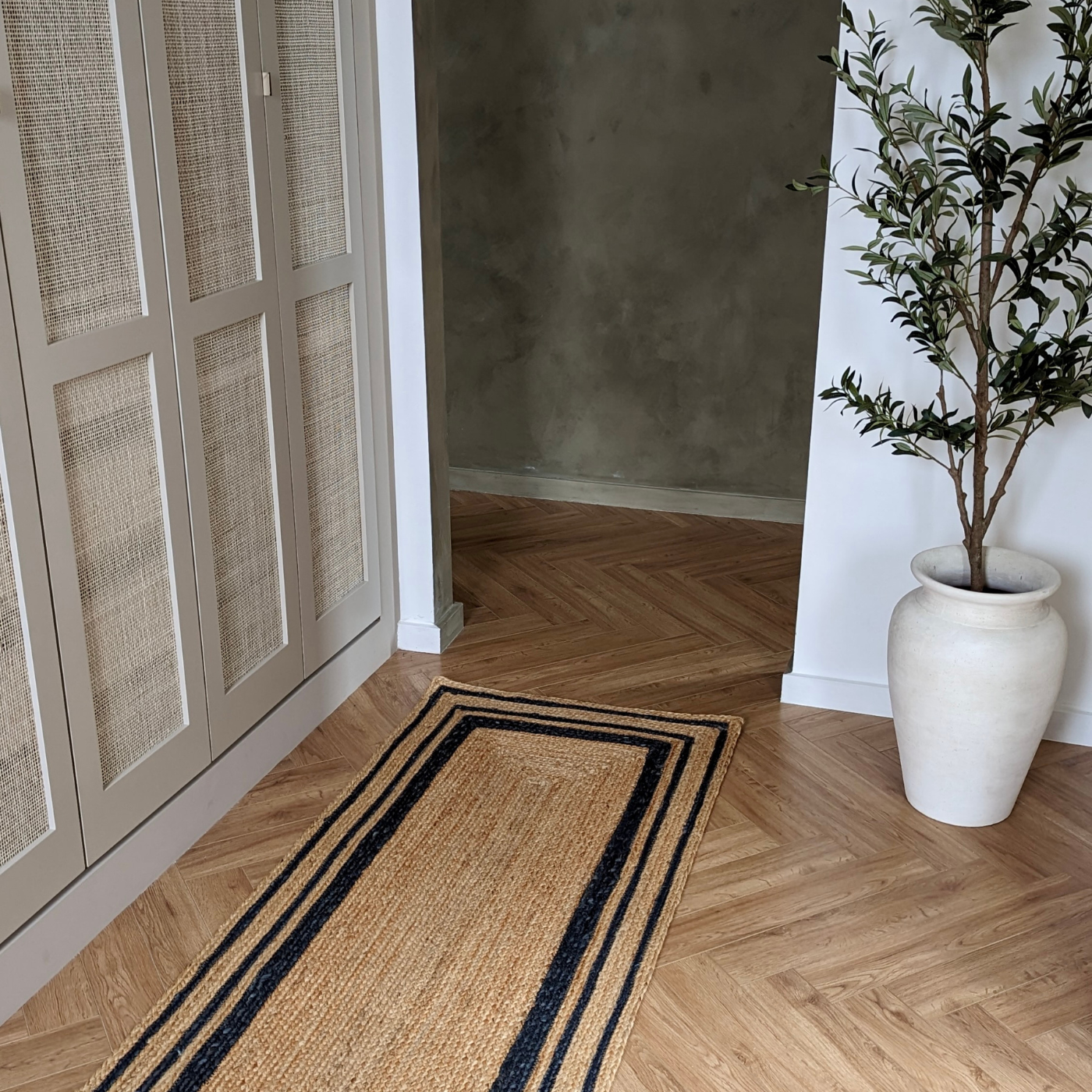 Hallway Rug Size Guide
Be sure to leave at least 1ft/30cm distance from the doorway; otherwise, it may get caught when the door opens or people might wipe their feet on it.
Your rug should not run the entire length of the hallway.
For larger hallways, a rectangle shape may be a better option than a runner. Measure the space available and as above, ensure you allow sufficient room for doors to open.
Material
Be sure to pick a strong, durable material that can withstand heavy foot traffic. We recommend only natural fibres such as wool or jute. Persian rugs are also ideal.